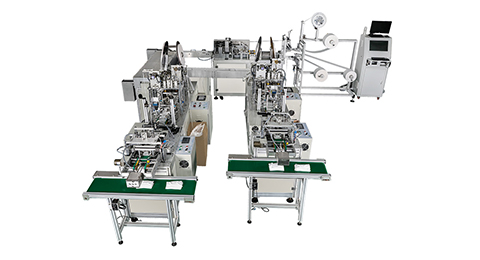 SURGICAL MASK AUTOMATIC PRODUCING LINES
MAIN FEATURES:
1. The surface layer, filter layer and bottom layer three rolls of fabric are automatically aligned and fed, and the bilateral symmetrical ultrasonic continuous edge pressing is conducted. After the continuous roller edge pressing is cut, it is divided into two stations for ear belt welding to improve the production efficiency. After the ear belt is welded, the digital pile is automatically counted.
2. The production line adopts the structure of "one drag two". The main body of a mask is automatically transported and distributed to two sets of ear belt automatic welding processing stations through a transmission system.
3. The ear band can be cut and welded automatically by ultrasonic.
4. Nose clip can realize automatic feeding, shearing and ultrasonic welding.
MAIN SPECIFICATIONS:
Model

General medical mask (YY/T0969)

Surgical mask (YY0469)

Finished product specification

175x95mm

Produce speed

100pcs/min

Applicable materials

PP Nonwoven composite fiber

Applicable layer

3

Processing mode

Ultrasonic welding

Operation screen

10" LCD touch screen

Pressure

0.6MPa

Voltage

10kw

Power

220v 50-60hz

Machine size

5000x6000x1800mm